We engage the most inspired minds to do their best work wherever they work best—powering the freedom to create at home, in the office, or in the local community.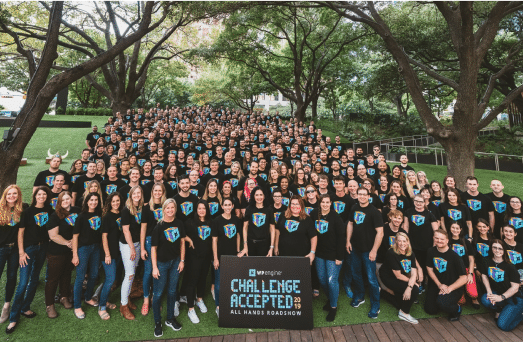 At WP Engine, we do what is right for our customers and this focus helps us to do the best work of our careers. We make it a priority to invest in employee success and love offering opportunities to help you grow and develop professionally. This is what makes WP Engine an award-winning workplace. See what our employees have to say about working here.
Our people fuel our engine
We're a diverse and inclusive set of people brought together by our shared purpose and values.
of our employees do not have a college degree.
of our employees are people of color.
of our employees identify as women or
non-binary.
"I spent the majority of my post-Trinity career trying to be perceived not as a female leader but just somebody who gets things done. But being an executive who is also a mother of two daughters, I realized that I had a responsibility to advocate bringing your full self to work. Being different is what makes all of us stronger. I needed to have that realization personally in order to be a champion for it.
We have embedded that philosophy in the core values of the company. You can be gay, Democrat, Republican, Jewish, Muslim—you will be treated as a full equal. People get a feeling of ownership when they are free to be who they are."
—Heather Brunner
Chairwoman and CEO, WP Engine
Our values are like a flame. They light the way for our actions and must always be fostered. Our people are enabled and empowered to tend this flame by making values-based decisions and innovating on our customers' behalf so that they can build winning digital experiences.

When it's right for the customer and the company, and you're proud of your decision, you've done the right thing.
We are grateful for our role in our customers' lives; when they win, we win.
We are proud of our work when it is intentionally designed and thoughtfully crafted.

We believe that great leaders give back and inspire others to do the same.

When we win, we celebrate our success and stay hungry. When we fail, we embrace opportunities to improve and learn.
Be a part of something great
WP Engine has received the Great Place to Work recognition across the globe for 5 years in a row! This means that our workplace is ranked high across 6 main criteria: values, innovation, financial growth, leadership effectiveness, maximizing human potential, and trust. Do your best work and continue growing professionally in a thriving work environment.
Work from where you're most productive
We embrace a virtual-first way of working and believe you should have the freedom to do your best work from wherever you're most productive. For those that prefer an office environment, we have state-of-the-art office hubs located in Austin, Omaha, London, Limerick, Brisbane, and Krakow, where employees can come together to find inspiration and collaborate with one another.
Compensation
We offer market-competitive compensation packages for everyone.
Stock options
Be invested in where you work. Your stock options give you the opportunity to become a partial owner of WP Engine!
Workplace flexibility
Work from one of our office hubs in Austin, Omaha, Limerick, London, Krakow, Brisbane, or wherever you're most productive.
Home office stipend
We give a one-time cash payment to help you set up your home office so you have the best environment to be productive.
Company-issued MacBook Pro
We provide the tools you need to be successful at your job, including a fully set up
MacBook Pro.
Monthly wellness allowance
Wellness looks different from person to person. Spend your money on the things that help you thrive.
Annual leave
25 days for all those adventures plus plenty of wellness days and holidays to give you the best work life balance.
Monthly wellness subscriptions
All WP Engine employees get a free subscription to the Calm App as well as access to free on-demand fitness and wellness classes to help you live your best life.
Learning and development
All employees have access to LinkedIn Learning, Workday Learning, and our Career Growth Portal so all employees can grow and to their best work.
Each employee brings a unique set of skills to the table that helps make WP Engine the
leader in WordPress technology.
FAQs about life at WP Engine
We engage the most inspired minds to do the best work of their careers, and we believe you should be the same person at work as you are at home.